Le rock'n'roll est une religion. Et le moins que l'on puisse dire, c'est que The Pretty Reckless lui fait honneur : venez en juger par vous-même vendredi 18 novembre 2022 au Zénith de Paris !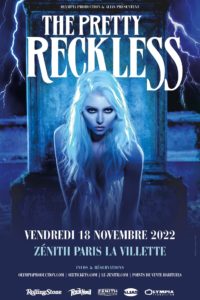 Formé en 2008, The Pretty Reckless a enchainé les albums à succès : tout d'abord avec « Light Me Up » en 2010, suivi 4 ans plus tard de l'excellent « Going To Hell ». Avec « Who You Selling For » en 2016, le groupe part en tournée avec Guns N'Roses.
Le dernier album en date « Death By Rock and Roll », sorti l'année dernière, n'est pas en reste : il a été salué par les médias du genre et s'est classé #1 dans plusieurs tops Billboard dont celui du Top Album, Top Rock, Top Hard Music et Top Digital.
Le titre éponyme monte sur la 1ère marche des Charts Rock. Dans le haut des classements pour la 5e fois consécutive, c'est une première pour un groupe de rock leadé par une femme.
« Death By Rock and Roll », peut-être… Mais The Pretty Reckless est plus vivant que jamais !