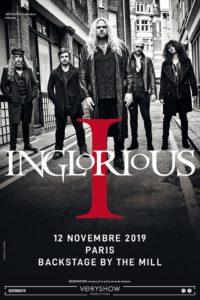 Inglorious sera en concert mardi 12 novembre 2019 @ Paris « O'Sullivans Backstage By The Mill«
Formé à Londres en 2014, Inglorious est un groupe de Hard Rock britannique qui tire ses influences du Rock des années 70, et de groupes comme Whitesnake, Deep Purple, Guns N' Roses et Led Zeppelin.
Après les albums « Inglorious » (2016) et « Inglorious II » (2017), qui capturent l'énergie live du groupe, le troisième album « Ride To Nowhere » est sorti le 25 janvier 2019.
Ce nouvel album regroupe un mélange de ballades, de morceaux plus Metal, d'autres plus acoustiques, plus bluesy, et même un morceau épique de 6 minutes, le tout dans une ambiance plus sombre que les deux albums précédents.
Retrouvez-les à Paris le 12 novembre 2019, au O'Sullivans Backstage By The Mill , pour une date unique en France !