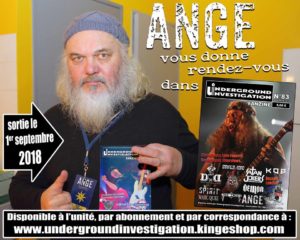 A partir du 1er septembre 2018 !
83ème numéro d'Underground Investigation Fanzine :
le plus vieux des fanzines français dédié au Metal imprimé depuis 1992 !
Très belle formule : 76 pages – 100% couleur
Au sommaire :
Interviews : Manilla Road, Satan Jokers, Demon, Ange & Hassan Hajdi, KOB, Marc Quee, The Deep, DnD et Spirit.
Dossier spécial : Zoom sur les photographes avec les interviews de Alain Boucly, Michel « Barry » Wieczorek, Laurent Plichta et Meggascoobi.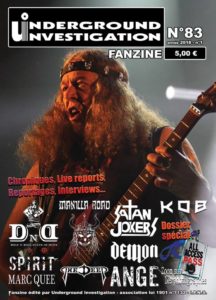 Live reports : 21ème Convention Rock n'Metal (Fismes), Tripute to Léon (Reims), The New Roses/Audrey Horne (Paris), Hard Rock Legend #3 (Fismes), Phil Campbell & The Bastards Sons (Vauréal), Spirit & Friends Metal Fest 2018 (Calonne-Ricouart), Kreator/Vader (Reims),
CD's reviews : Anvil, Luke Appleton, Battle Raider, Blaze Bayley, Blitzkrieg, Bolido, Death Dealer, Desolation Angels, Dr Feelgood, Exarsis, Inhell, Jizzy Pearl of Love Hate, Lumberjack, Lyzzärd, Stephen Pearcy, Ritchie Blackmore's Rainbow, Satan Jokers, Saxon, Spartan Warrior, Tentation/Iron Slaught et Trust.
Vous pouvez commandez votre exemplaire papier de ce n°83 (et d'autres) pour 5 € ou apporter votre soutien à Underground Investigation en vous abonnant pour l'année en cours (20 € + avantages) à :
http://www.undergroundinvestigation.kingeshop.com/
Plus d'informations : sylvcott@orange.fr