Tommy Emmanuel
propose une version de 
« Purple Haze »
comme vous ne l'avez jamais entendue !
Il sera en France pour 5 dates en novembre 2018, dont un concert au 
Casino de Paris
.
Mascot Label Group
& The Players Club présentent «
Accomplice One »
 l'album de
Tommy Emmanuel
.
Disponible en CD digipak, vinyle & digital
Regardez sa version acoustique de « Purple Haze » le classique de Jimi Hendrix [Feat. Jerry Douglas] :
Regardez la vidéo de « Looking Forward To The Past » [feat. Rodney Crowell] ICI
Regardez la vidéo de « Borderline » [feat. Amanda Shires] ICI
Regardez la vidéo de « (Sittin 'On) The Dock Of The Bay » [feat. J.D. Simo] ICI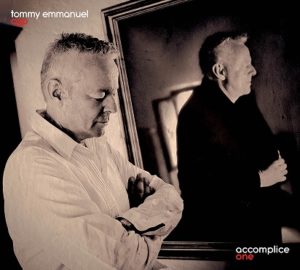 Le 19 janvier dernier, Mascot Label Group a lancé un nouveau label, The Players Club, avec la sortie de « Accomplice One », le nouvel album du guitariste australien Tommy Emmanuel.
Sur ce disque Tommy a décidé de mêler de nouveaux morceaux à des reprises interprétées avec des invités tels que Jason Isbell, Mark Knopfler, Rodney Crowell, Jerry Douglas, Amanda Shires, Ricky Skaggs, J.D. Simo, David Grisman, Bryan Sutton, Suzy Bogguss…
Artiste mondialement reconnu par les « spécialistes », Tommy Emmanuel est un guitariste acoustique expert dans l'art du « picking ». Son style s'inscrit dans la lignée de Chet Atkins, Merle Travis ou Marcel Dadi.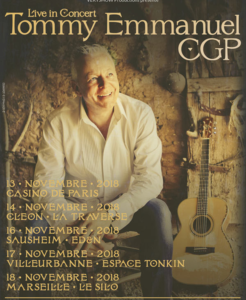 Comme l'illustrent brillamment les trois vidéos ci-dessus, Tommy met sa virtuosité au service de genres allant de la pop au folk en passant par le jazz, le blues, le boogie ou le rock. Sur scène, sa maîtrise de la guitare sèche prend une dimension encore plus impressionnante. Eric Clapton a carrément dit de lui qu'il était : « the greatest guitar player I ever seen ».
Tournée française 2018:
13/11, Paris @ Casino de Paris
14/11, Cléon @ La Traverse
16/11, Sausheim @ Eden
17/11, Lyon (Villeurbanne) @ Espace Tonkin
18/11, Marseille @ Silolocations ICI