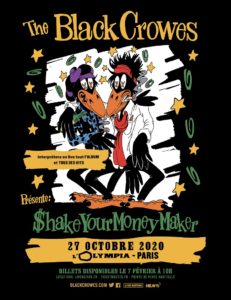 The Black Crowes seront en concert le 27 octobre 2020 à l'Olympia de Paris.
The Black Crowes – Chris et Rich Robinson, annoncent le 30 eme anniversaire du mythique album « Shake Your Money Maker » – quintuple album de platine, avec une tournée au Royaume-Uni et en Europe.
Le groupe jouera l'intégralité de son premier album ainsi que tous ses plus gros hits. Les frères Robinson n'ont pas donné de concert depuis 2013 alors qu'ils promettaient ne plus jamais ensemble. Heureusement pour les fans, le temps a joué en leur faveur !
Chris Robinson explique de cette reformation : « je suis sincèrement heureux et reconnaissant de jouer à nouveau avec mon frère pour célébrer la musique que nous avons créée et qui a donné un sens à nos vies. Longue vie au Rock N Roll et aux Black Crowes ! »