What a great opportunity to see them finally. Queens of the Stone Age ages like fine wine. That's what we should say. After the Smile Intro and with no Suprises, they play No One Knows as an opening. The sun is going down. The awesome crowd sing and dance with Josh in harmony.  The riffs of My God is the Sun ring out then the dancing tone of Smooth Sailing. And here comes Carnavoyeur from the last album In Times New Roman.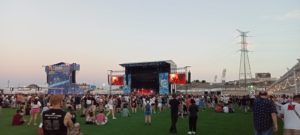 A pure moment of Catharsis when we talk about hard times. The music and the lyrics go both to express feelings hiden for years. « Nothing, nothing Nothing inside..There's no reason to cry.. »just fade away, like love. Time to introduce the band with his unic sens of humor. And again, we have Josh acclaiming the bass player unreal 32's birthday.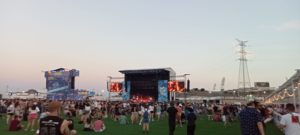 The public chant Happy Birthday's. The party goes on with The Way You Used to Do. It seems that the frontman is getting better. This song was for his ex-wife. After all the suffering and problems few guys could sing tracks used to be for an ex. The fans appreciate pretty much. First notes from If I had a Teil and Josh says « look at what we have » as a crowd he means I guess « Noche… ».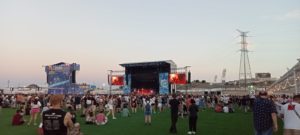 And this is the third track from …Like a Clockwork. The Evil Has Landed take place with its bluesy riffs coupling Josh voice.  A place for a riff oriented and rhythmic hard rock sound with Paper Machete. Falsetto vocals and guitars scales. And well, well here comes the rock & roll dedication to love.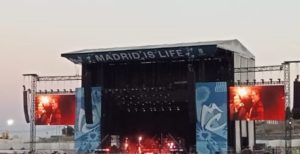 Make it Wit Chu from Era Vulgaris 2007.  How beautiful to see this awesome acquired crowd sings in chorus.  And how beautiful to hear during the solo a snippet of The Rolling Stones' « Miss You ». These guys are tough. Queens of the Stone Age is one the tighest bands on the road of rock & roll.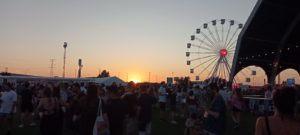 Emotion Sicknes is another proof to say that Queens of the Stone Age is by far one the best live rock bands. They are always so close to studio Materials.  Josh says at the end oof the set "We have time for one more. Do you anna here one more. "And here e go for it "A Song for the Dead" to end up one great shows of Madcool 2023.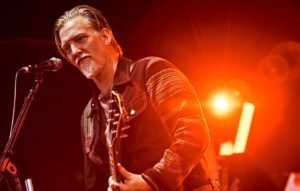 And here is the awesome  SetList for one of the awesome bands and crowds : Smile(Charlie Chaplin song) , No One Knows, My God Is the Sun, Smooth Sailing, , Carnavoyeur, The Way You Used to Do, If I Had a Tail, The Evil Has Landed, Paper Machete, Make It Wit Chu (With a snippet of The Rolling Stone), Emotion Sickness, Little Sister, Straight Jacket Fitting, Go With the Flow, A Song for the Dead.