Ce jeudi 15 décembre à 19 heures a été annoncée officiellement la programmation complète de la 16e édition du Hellfest qui se déroulera sur 4 jours du jeudi 15 au dimanche 18 juin 2023.
Au menu des têtes d'affiche, les légendes du hard rock Kiss le jeudi, Def Leppard et Mötley Crüe le vendredi, Iron Maiden le samedi, ou encore, Slipknot et Pantera le dimanche. La mise en vente des pass 1 jour sera proposée au début de l'année 2023 sur la billetterie du Hellfest. Découvrez la programmation complète des quatre jours :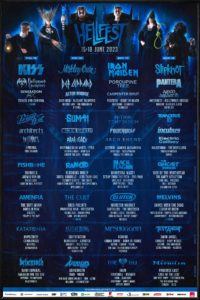 jeudi 15 juin :
– Mainstage 1 : Kiss, Hollywood Vampires, Generation Sex, Coheed and Cambria + 1 groupe.
– Mainstage 2 : Parkway Drive, Architects, In Flames, I Prevail, Code Orange.
– Altar : Testament, Dark Angel, Exodus, Holy Moses, Vektor, Evil Invaders, Schizophrenia, Aaleister.
– Temple : Fields of the Nephilim, Paradise Lost, Lord of the Lost, She past away, Treponem Pal, The old dead tree, Strigoi, Blod.
– Valley : Melvins, Dance with the dead, Legion of Doom, Mutoid Man, Empire State Bastard, Wolvennest, Doodsheshader + 1 groupe.
Warzone : Fishbone, Svinkels, Ludwig von 88, Poesie Zero, Voice of Hell Cont
vendredi 16 juin :
– Mainstage 1 : Mötley Crüe, Def Leppard, Alter Bridge, Skid Row, Elegant Weapons, British Lion, The Quireboys, P-Troll.
– Mainstage 2 : Sum 41, Machine Gun Kelly, Papa Roach, Motionless in White, Eths, Nothing More, Mod Sun, Escape The Fate, Vended.
– Temple : Behemoth, Dark Funeral, Harakiri for the sky, Imperial Triumphant, Blackbraid.
– Altar : Katatonia, Hypocrisy, Candlemass, Nighfall et Aephanemer.
– Valley : Amenra, The Soft Moon, Birds in Row, Celeste, Today is the day.
– Warzone : Rancid, Flogging Molly, Gogol Bordelo, Less than Jake, Cockney Rejects, The Chats, Komintern Sect, Peter Pan Speedrock, Syndrome 81.
samedi 17 juin :
– Mainstage 1 : Iron Maiden, Porcupine Tree, Carpenter Brut, Puscifer, Beast in Black, Riverside, Evergrey, Scarlean.
– Mainstage 2 : Within Temptation, Powerwolf, Arch Enemy, Seether, Asking Alexandria, Fever 333, Bloodywood, Cobra the Impaler.
– Temple : Venom Inc., Gorgoroth, 1349, Vreid, Der Weg einer Freiheit, 1914, A.C.O.D., Belends, Hetroertzen.
– Altar : As I Lay Dying, Suffocation, Bloodbath, Aborted, Unearth, Full of Hell, Nostromo, Candy, Venefixion.
– Valley : The Cult, Greg Puciato, Primitive Man, Weedeater, Helms Alee, Bongripper, LLNN, My Diligence + 1 groupe.
– Warzone : Blackflag, Municipal Waste, Stray from the path, Pro-Pain, Soul Glo, Mindforce, Spiritworld, Zulu, Hard Mind.
dimanche 18 juin :
– Mainstage 1 : Slipknot, Pantera, Amon Amarth, Hatebreed, Hollywood Undead, Ho99o9, Florence Black, Do or Die.
– Mainstage 2 : Tenacious D, Incubus, Electric Callboy, Halestorm, The Distillers, Thundermother, Skynd.
– Temple : The Hu, Faun, Finntroll, Myrath, Saor, Svalbard, Kalandra, White Ward, Nature Morte.
– Altar : Meshuggah, Voivod, Lorna Shore, Born of Osiris, Gorod, Loathe, Ten56., The Dali Thundering Concept, Pestifer.
– Valley : Clutch, Monster Magnet, Earthless, The obsessed, Stoned Jesus, Crowbar, King Buffalo, Spirit Adrift, Decasia.
– Warzone : The Ghost Inside, Rise of the Northstar, The Amity Affliction, Cane Hill, Paleface, End, Resolve, Beyond the Styx.