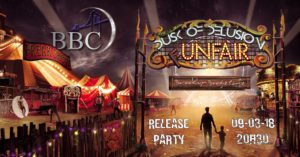 A l'occasion de la sortie officielle du premier album  de Dusk Of Delusion « (F)unfair »,  une soirée apéro-release aura lieu à Nancy / Brooklyn Boogie Café le vendredi 9 mars à 20h30.
Au programme : diffusion des clips, et de « (F)unfair » en fond sonore.

L'entrée à la release est gratuite, Dusk of Delusion vous offrira même à cette occasion de quoi grignoter !
Les boissons seront, bien entendu, à commander contre écus sonnants et trébuchants.
L'album sera quand à lui en vente et en dédicace au prix de 10€ !