Coverslave
20th Anniversary +
Dennis Stratton
ex-guitariste d'
Iron Maiden
 – The Maiden Years Tour – Chapter 1 + Special Guest :
Syr Daria
Jeudi 17 octobre 2019 à 20h30 – Cléon (76) « La Traverse »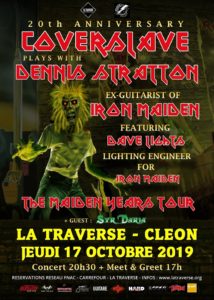 Ne manquez pas cet évènement exceptionnel pour la célébration des 20 ans de
Coverslave
.
Un show complet des meilleurs morceaux d'Iron Maiden !
Dennis Stratton, guitariste sur le premier album légendaire d'Iron Maiden rejoindra Coverslave pour une série de concerts du 17 au 20 Octobre 2019.
L'emblématique technicien des lights d'Iron Maiden Dave Lights sera aux manettes pour illuminer le show, afin de vous offrir un spectacle digne des plus grandes heures de la vierge de fer. Après avoir œuvré sur les tournées « Beast on The Road Tour 82 », « World Piece Tour 83 » et « World Slavery Tour 84-85 », la présence de Dave renforce le caractère unique et inédit de cet évènement !
1ère date à Cléon – « La Traverse »
Jeudi 17 octobre 2019  : Meet & Greet à 17h00 / Concert à 20H30
guest : Syr Daria
Réservations ICI