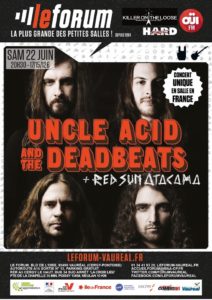 Red Sun Atacama assurera la première partie d'Uncle Acid & The Deadbeats samedi 22 juin 2019 au Forum de Vauréal
Sur le chemin entre le Hellfest et le Graspop Festival, Uncle Acid & The Deadbeats font escale au Forum de Vauréal samedi 22 juin 2019 pour une date unique en salle en France !
Groupe de Doom / Rock Psychédélique, Uncle Acid & The Deadbeats se sont formés en 2009 à Cambridge. Largement influencé par le heavy metal des années 70, la musique des Anglais est décrite comme du « Alice Cooper mélangé à du Black Sabbath ». Ils utilisent d'ailleurs des instruments vintages pour reproduire les sons produits à cette époque. Après un premier album sorti en 2010, K.R Starrs (aka Tonton Acid) et ses comparses sortent « Blood Lust » deux ans plus tard, leur permettant de se faire connaître en plus d'être salué par la critique.
le nouvel album d'Uncle Acid & The Deadbeats intitulé « Wasteland », est disponible depuis le 12 octobre 2018 via Rise Above Records.
L'album a été enregistré par Geoff Neal (Nine Inch Nail, Mötorhead). Le guitariste chanteur Kevin Starrs a déclaré : « Il n 'y a pas assez de mélodie ou d'harmonie dans la nouvelle musique à mon goût. Je veux aller encore plus loin avec tout ceci cette fois, et prendre les gens à la gorge ! C'est important pour moi que quelqu'un continue de le faire, surtout dans la musique heavy. J'écris toujours en fonction de mes goûts, donc tant que ça me parle, je n'y pense pas réellement. Je peux dire que tout a été une progression instinctive. »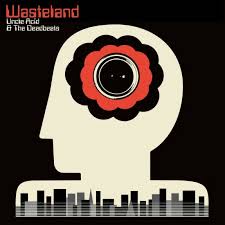 Tracklist:
01 – I See Through You
02 – Shockwave City
03 – No Return
04 – Blood Runner
05 – Strange Night
06 – Wastelad
07 – Bedouin
08 – Exodus
D'après Uncle Acid : « On a hâte de revenir dévaster nos villes préférées. Vous allez adorer les concerts, expérimenter le top de la technologie en écran PsychoVision avec des tonnes d'amplificateurs à tubes poussés au maximum pour vous éclater les oreilles et vous liquéfier l'esprit. Le cauchemar reprend ! »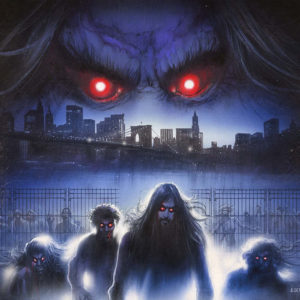 Tarif sur place : 17€
Tarif en prévente : 15€
Tarif abonné : 12€
Pass Campus : 5€
Le Forum
Boulevard de l'Oise – 95490 Vauréal
www.leforum-vaureal.fr
01 34 41 93 20
A15 sortie 12, direction Vauréal.
Transports en commun : RER A, arrêt Cergy Le Haut. Bus 34, arrêt La Croix Lieu.