Cisco Herzhaft sera en concert mardi 4 juin 2019 à Paris « Le Sunset », pour la release party de l'album « Son Of A Watchmaker » déjà disponible via Blues'N Trad / Socadisc.

C'est un véritable baroudeur, un homme de terrain et de blues qui a usé ses chaussures (et cordes) sur les routes du monde et qui a souvent remonté ses manches pour faire pas moins de vingt huit métiers mais aussi pour enregistrer une douzaine d'albums dont son dernier « Son Of A Watchmaker ».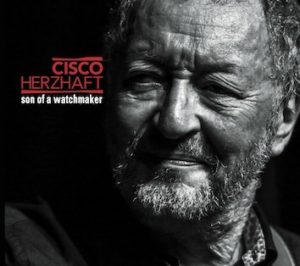 Auteur, compositeur, finger picker, habile technicien du slide, Cisco, ce fils d'horloger, est aussi showman, infatigable vagabond du blues, narrateur d'anecdotes, emmenant le public en voyage sur les routes, lui communiquant sa pêche et sa passion.
Fortement influencé par les bluesmen Big Bill Bronzy et Big Joe Wiliams, ce chanteur guitariste folk-blues aura, comme tous les bourlingueurs, la mystérieuse chance de se trouver sur le chemin des futurs monstres sacrés du blues, de Fred McDowell à John Lee Hooker, avec lesquels il jouera le temps d'une soirée ou d'une tournée.
Sur ce nouvel album, Cisco collabore avec un rappeur, Rockin'Squat (projet Jungle Blues), un BeatBoxer, MicFlow, Geneviève Dartevelle, une artiste Belge, et Fabrice Eulry, un pianiste de boogie woogie.