La sortie du nouvel album de Bette Smith intitulé « Jetlagger » est annoncée pour le 2 février 2018 via Big Legal Mess Records / Fat Possum Records.
Découvrez le titre « Shackle & Chain » en vidéo:
Découvrez le titre « Manchild » en vidéo:
"An incredible debut from the next big-voiced soul sensation out of Brooklyn."  – Mojo –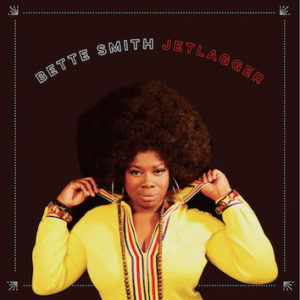 « A rugged, chugging southern soul record… Like Betty Davis or Betty Wright before her, she's imbues tracks with shingly, sawtoothed texture, capable of breaking off a high note with a throaty cry or scraping so low and wide that she threatens to put her bass player out of work. »  – Billboard –
Enregistré dans le Mississippi avec le producteur Jimbo Mathus (qui joue sur tous les albums de Valerie June à Elvis Costello) cet opus reconnecte Bette Smith aux     racines Deep Roots du gospel, de la soul et du blues, racines avec lesquelles elle a grandi à New York.
« Jetlagger » est la concrétisation d'une promesse faite à son jeune frère disparu. En sa mémoire, Bette porte la couleur jaune sur scène. Cet album propose des reprises (Isaac Hayes, Staples Singers…) des classiques et des titres originaux composés pour elle. A noter qu'un de ces titres fut écrit par Ray Charles, grand fan de la voix de la demoiselle. Les cuivres de Marc Franklin ( Robert Cray et Lucero) et Kirk Smothers (Don Bryant, Melissa Etheridge, Cyndi Lauper) complètent magnifiquement cet opus qui fut enregistré « live en studio ».
« Jetlagger » fait suite à un 1er EP sorti en 2016 qui lui valu de très belles critiques comme celle de Bitch magazine qui la compare à Laureen Hill ou Erikah Badu. Heritière de Big Mama Thorton et de Koko Taylor, Bette Smith n'a rien à envier à ses illustres aînées.
A découvrir d'urgence