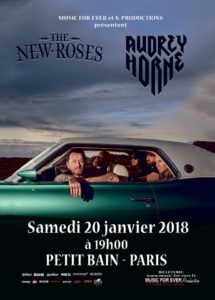 Cette date unique en Europe en co-tête d'affiche, vous  permettra de passer une soirée très chaude en plein cœur de l'hiver.  La salle ayant une capacité limité, il est conseillé de réserver sa prévente ICI sans tarder.
Audrey Horne est un groupe norvégien de hard rock fondé en 2002 par des musiciens appartenant déjà à des formations renommées de la scène metal de Bergen. Il emprunte son nom à un personnage de la série Twin Peaks.
Découvrez « Audrevolution », extrait de « Blackout », le prochain album d'Audrey Horne qui sortira le 12 janvier 2018:
The New Roses vient de sortir son nouvel album « One More For The Road » chez Napalm Record.
Ils ont également participé à de nombreux festivals  dont le Hellfest en 2017.
Découvrez The New Roses avec « What If It Was You », extrait de l'album « One More For The Road »: