La 7ème édition du Monsters Of Tribute Rock se déroulera vendredi 9 février 2023 à « L'Espace de Forges » de Forges-les-Eaux (76).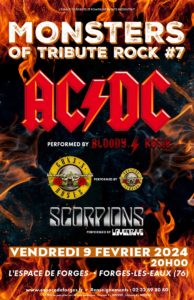 Du très lourd en perspective, avec Guns N' Roses performed by Guns For Illusion, AC/DC performed by Bloody Rosie et Scorpions performed by Lovedrive.
Les réservations sont déjà ouvertes ICI
Le concept de Monsters Of Tribute Rock ? Créer une affiche représentative des groupes ayant assuré les têtes d'affiches lors des légendaires festivals de Donington Park (UK) dans les années 80.
Avec plus de 100 000 spectateurs, l'évènement Monsters Of Rock a marqué l'histoire du Hard Rock, en inaugurant les rassemblements de grande ampleur, qui ont franchi les frontières du Royaume Uni à partir de 1983.
Permettant ainsi à un large public d'assister aux premiers méga shows de groupes comme Kiss, Iron Maiden, Scorpions, Deep Purple, ZZ Top, Guns'n Roses, Status Quo ou encore AC/DC. C'est dans cet esprit, que vous retrouverez sur scène 3 groupes incontournables, parmi les meilleurs tributes européens, pour interpréter le meilleur d'AC/DC, Scorpions et Guns N' Roses.
Fort de l'expérience acquise lors des 6 premières éditions, le concept Monsters Of Tribute Rock est à présent bien ancré dans un paysage musical qui rayonne sur le territoire national !
Ne manquez pas cet
événement
unique à l'Espace de Forges lors d'une soirée qui s'annonce mémorable !