BASE Productions présente : This Is Soul ! en tournée française, avec The Excitements et Hannah Williams & The Affirmations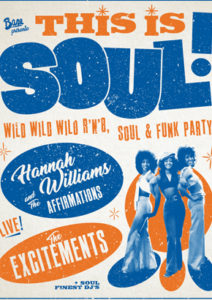 Nouveau rendez vous incontournable des amateurs de sons vintages en France, les soirées This Is Soul! font leurs grands débuts en 2018 avec un plateau live de classe internationale pour réchauffer votre hiver !
Au programme, le bouillantissime R&B Soul des barcelonais de The Excitements emmené par la charismatique Koko Jean Davis.
Et en prime, la sensation Soul du moment, Hannah Williams avec son groupe The Affirmations originaire de Bristol, nominé au Grammy Award pour le meilleur titre de l'année suite à sa participation au tube planétaire JAY Z, 4:44.