Le nouvel album de The Treatment, intitulé «Waiting For Good Luck», sortira le 9 avril 2021 via Frontiers Music s.r.l.
«Waiting For Good Luck» est le cinquième album des hard rockers britanniques The Treatment. Une première écoute révélera instantanément des riffs imposants et des refrains mémorables, tandis que les suivantes enfoncent le clou au fur et à mesure que l'auditeur plonge dans cette lettre d'amour au hard rock. «Waiting For Good Luck» est vraiment un album classique en devenir.
Produit par le maestro du rock britannique Laurie Mansworth (Airrace) et mixé par Kevin Shirley (Iron Maiden, Led Zeppelin, Black Country Communion, etc.), «Waiting for Good Luck» est le deuxième album de The Treatment avec Tom Rampton au chant et le premier avec le nouveau bassiste Andy Milburn. Le style vocal râpeux et imbibé de whisky de Rampton convient parfaitement au style hard rock du groupe, dont l'expérience acquise lors de la tournée avec cette formation sont clairement mis en évidence sur cet album.
« Waiting For Good Luck » est une magnifique tranche d'hymnes rock'n roll pleins de groove et sans aucune faiblesse, pour offrir la réalisation la plus aboutie de The Treatment à ce jour.
«Nous croyons tous honnêtement que cet album est un énorme pas en avant pour The Treatment. Nous serons en tournée dès que les circonstances nous le permettront et nous avons hâte de voir tous les fans de The Treatment à nos concerts l'année prochaine », déclare le groupe.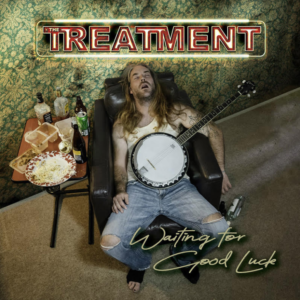 The Treatment s'est formé en 2008 à Cambridge, en Angleterre. Leur premier album, « This Might Hurt » est sorti en 2011 et suivi de « Running With The Dogs » (2014), « Generation Me » (2016) et « Power Crazy » (2019). Le groupe a tourné avec Kiss, Mötley Crüe, Steel Panther, Thin Lizzy et Alice Cooper, pour n'en citer que quelques-uns, ainsi que des apparitions dans des festivals comme Download ou le Sonisphere.
Tracklisting :
01. Rat Race
02. Take It Or Leave It
03. Lightning In A Bottle
04. Vampress
05. Eyes On You
06. No Way Home
07. Devil In The Detail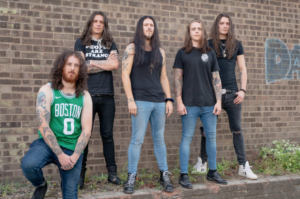 08. Tough Kid
09. Hold Fire
10. Barman
11. Let's Make Money
12. Wrong Way
Line up :
Tom Rampton – Vocals
Dhani Mansworth – Drums
Tagore Grey – Guitars
Tao Grey – Guitar and Bass Guitar