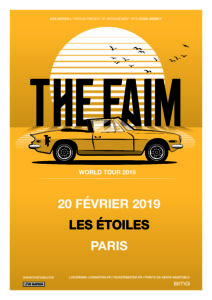 The Faim sera en concert le 20 février 2019 à Paris / Les Etoiles
The Faim est un groupe australien fondé en novembre 2014 à Perth, Australie.
Il se compose de Josh Ravens (chant), Michael J. Bono (guitare), Stephen Beerkens (basse/clavier) et Sean Tighe (batterie).
Le groupe propose des sonorités Pop Alternative entraînantes et déborde d'énergie, si bien qu'avec seulement trois chansons enregistrées à leur actif, ils signent avec BMG Music.
Le pionnier de la production hollywoodienne, John Feldmann (Black Veil Brides, Blink 182, The Used, All Time Low) s'est laissé intriguer en écoutant leur démo et les a personnellement invités à Los Angeles pour enregistrer leur premier album ! Si ça, ce n'est pas un début en fanfare !