Teenage Lust Prod' présente : The Empire Strikes + Moving Targets : En concert @ Paris « L'International » le 04 octobre 2019 et en tournée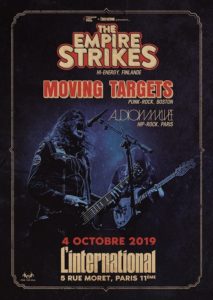 Manches de guitare en l'air et veste en jean sur le dos, ces ardents promoteurs du denim rock débarquent chez nous ! Basé à Helsinki, The Empire Strikes vient tout juste sorti son 3ème album  « Charm » sur Ghost Highway Rec. / Savage Magic Rec.
Réputé pour ses performances live, le quatuor finlandais a enchaîné les tournées depuis 2012, sillonnant l'Europe et ouvrant de temps à autre pour des groupes tels que Phil Campbell & The Bastard Sons, Marky Ramones Blitzkrieg.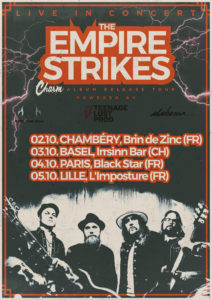 Fondé en 1982 par Kenny Chambers dans la mouvance émergente du punk bostonien de l'époque, les Moving Targets sont vite devenus une référence du genre, s'imposant avec leur 1er album « Burning In Water » en 1986.
Avec la douce caresse du punk de Boston teintée de l'excellent songwriting de Kenny, des riffs mélodiques et d'une section rythmique à l'efficacité redoutable, les fans de groupes comme Hüsker Dü, The Lemonheads, ou encore Mission of Burma seront forcément comblés avec les Moving Targets.
Accompagné de Emilien Catalano (de The Nils) à la batterie et Yves Thibault (de Out Of Order) à la basse, Kenny Chambers vient nous présenter son tout nouvel opus « Wires » sorti en septembre chez Boss Tunage Records. Un grand moment en perspective !