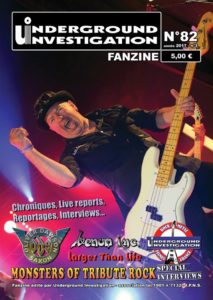 Cette édition 100% couleur de 84 pages contient une multitude d'articles, interviews, live reports, chroniques et un dossier spécial Monsters Of Tribute Rock, avec au sommaire:
– Oliver/Dawson Saxon, Venom Inc. et Larger Than Life en interview
– Dossier spécial : Monsters of Tribute Rock avec les interviews croisés des batteurs de Bloody Rosie (Taz), Coverslave (Eric), Dynasty (Joe) et GanG (Malo).
– Interview spéciale : Underground Investigation « 25 ans de passion Rock n'Metal ».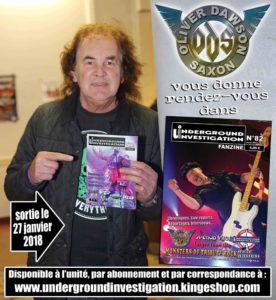 – Live reports : Absolva (Chez Paulette), British Steel Saturday Night#6 (Fismes), Dirkchneider/Raven (Paris), RaismesFest 2017 (jour 1), Rock'n Festival #6 (Chauny), Chris Slade Timeline (Cléon), Hard Rock Legend 2017 (Fismes), Michael Schenker/Status Quo/Uriah Heep (Colmar), Festival de Vouziers 2017, Nashville Pussy (Clermont-Ferrand), Steel Rangers/GanG (Cholet) et The Stranglers (Le Havre).
– Retour en images : Motocultor Festival 2017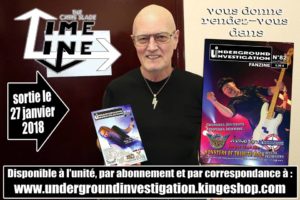 – CD's reviews : Absolva, Ancient Empire, Archange, Argus, Bebly, Bigfoot, Blazon Stone, Bowie, Fire Strike, Rory Gallagher, Graham Bonnet Band, Great White, Hellfire, Highway, Jenner, L.A.Guns, Lux, Mandragora, Mr.Big, On Lap, Pink Cream 69, Quiet Riot, Rammstein, Slander, Sleazer, Snakecharmer, Spider, Starblind, Steel Rangers, Stereo Nasty, Tytan, Venom Inc. et Vescera.
Vous pouvez commandez votre exemplaire papier de ce n°82 (et d'autres) pour 5 € ou nous apporter votre soutien en vous abonnant pour l'année en cours (20 € + avantages) à :