Les 2 guitaristes de Scorpions, Rudolf Schenker et Matthias Jabs, sont en couverture de Guitare Extrême Magazine N° 86. (mai / juin 2018)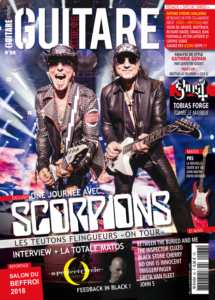 Retrouvez le sommaire complet ICI, avec entre autres Greta Van Fleet, A perfect Circle, Ghost, Blackstone Cherry et Triggerfinger.
Leurs chansons «Still Loving You» et «Wind of Change» les ont propulsés en tête des charts pendant plusieurs semaines. Ils resteront des hits intemporels, tout comme «Send me an Angel», «Still Loving You», «Holiday», « ock You Like An Hurricane», «Black-Out» ou encore «Dynamite».
En 40 ans de carrière, le plus célèbre des groupes de hard rock allemand a sorti pas loin d'une vingtaine d'albums et en a vendu plus de 100 millions à travers le monde. Véritables bêtes de scène, Scorpions enchaînent sur scène pendant plus de deux heures des titres qui ont fait leur succès.
Connus comme les maîtres incontestés de la ballade, ils ont sélectionné les plus belles et les plus légendaires pour constituer leur prochain album « Born To Touch Your Feeling – Best of Rock Ballads » , dont la sortie est prévue le 24 novembre.

Cliquez sur l'image pour réserver