Présente:
Mr. Big
et
The Answer
le 06 novembre 2017 à Paris / La Machine du Moulin Rouge.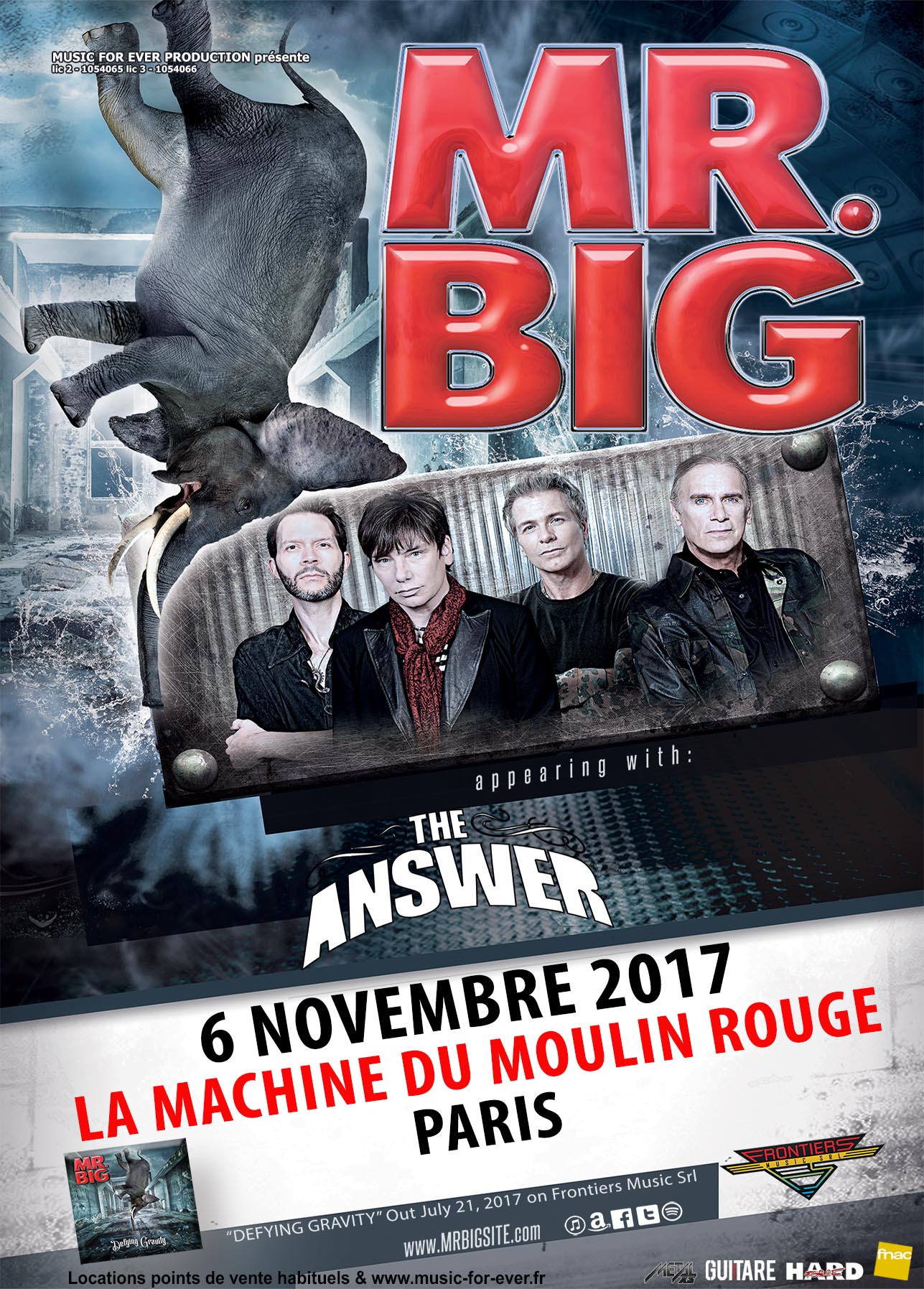 Mr. Big vient de sortir le 7 juillet 2017 son neuvième album, intitulé « Defying Gravity » 2017 via Frontiers Music Srl.
L'album est produit par Kevin Elson à qui l'on doit les quatre premiers albums du groupe, « Mr. Big » (1989), « Lean Into It » (1991), « Bump Ahead » (1993) et « Hey Man » (1996).
En France Mr. Big est bien entendu connu du grand public grâce à l'immense succès de « To Be With You » (1991) et « Wild World » (1993, reprise de Cat Stevens), deux singles imparables qui sont restés pendant plusieurs semaines au sommet de notre fameux Top 50 national.
Mais Mr.Big c'est avant tout l'union sous la même bannière de quatre musiciens exceptionnels : le bassiste Billy Sheehan (The Winery Dogs, Talas, UFO, David Lee Roth, Steve Vai), le guitariste Paul Gilbert (Racer X), le batteur Pat Torpey (Stan Bush, Robert Plant, Impelliterri) et le chanteur Eric Martin.
Un quatuor aux allures de « dream team » qui a accouché en 1989 d'un premier album bourré de feeling, chose peu surprenante de la part d'un groupe qui avait été chercher son patronyme dans le répertoire du grand Free de Paul Rodgers et Paul Kossoff…
Le groupe a toujours été une bête de scène, il y a donc fort à parier que le public français va ce précipiter le 06 Novembre 2017 à La Machine du Moulin Rouge à Paris.
Billetterie : Points de vente habituels et www.music-for-ever.fr