Motörhead était un groupe extrême : un mélange inflammable de célébration non-stop sur leur succès croissant et de greffe punitive, souligné par une dynamique inter-bandes poudrière.
Après avoir enregistré « Ace Of Spades » , il avait atteint la quatrième place au Royaume-Uni. La percée meurtrière après qu'« Overkill » et « Bomber » aient fait un travail de base essentiel, la tournée « Ace Up Your Sleeve » UK de la fin des années 1980 a été un tour d'honneur triomphant qui s'est répercuté sur l'enregistrement de « No Sleep 'Til Hammersmith ».
L'album a pris son titre d'une inscription peinte sur l'un des camions, faisant référence aux 32 concerts auxquels ils jouaient avec seulement deux jours de congé. La liste des morceaux a fini par inclure trois morceaux d'« Ace Of Spades », cinq d'« Overkill », le morceau principal de « Bomber » et deux de leurs débuts éponymes.
Retrouvez les détails des différentes versions de « No Sleep 'Til Hammersmith » :
CD1 (Original Album Remastered – 2021)
01. Ace Of Spades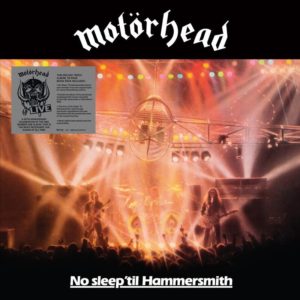 02. Stay Clean
03. Metropolis
04. The Hammer
05. Iron Horse
06. No Class
07. Overkill
08. (We Are) The Roadcrew
09. Capricorn
10. Bomber
11. Motorhead
12. Over The Top
13. Train Kept A Rollin'
Bonus (Live Soundcheck at Newcastle City Hall – March 30, 1981)
14. Stay Clean
15. Limb From Limb
16. Iron Horse
CD2 (Live At Newcastle City Hall – March 30, 1981)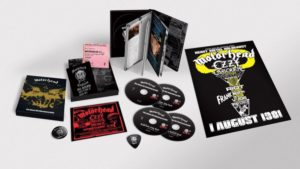 01. Ace Of Spades
02. Stay Clean
03. Over The Top
04. Metropolis
05. Shoot You In The Back
06. The Hammer
07. Jailbait
08. Leaving Here
09. Iron Horse
10. Fire Fire
11. Capricorn
12. Too Late Too Late
13. No Class
14. (We Are) The Road Crew
15. Bite The Bullet
16. The Chase Is Better Than The Catch
17. Overkill
18. Bomber
19.Motorhead
CD3 (Live At Newcastle City Hall – March 29, 1981)
01. Ace Of Spades
02. Stay Clean
03. Over The Top
04. Metropolis
05. Shoot You In The Back
06. The Hammer
07. Jailbait
08. Leaving Here
09. Fire Fire
10. Capricorn
11. Too Late Too Late
12. No Class
13. (We Are) The Road Crew
14. Bite The Bullet
15. The Chase Is Better Than The Catch
16. Overkill
17. Bomber
18. Motorhead
CD4 (Live At Leeds Queens Hall – March 28, 1981)
01. Ace Of Spades
02. Stay Clean
03. Over The Top
04. Metropolis
05. Shoot You In The Back
06. The Hammer
07. Jailbait
08. Leaving Here
09. Fire Fire
10. Capricorn
11. Too Late Too Late
12. No Class
13. (We Are) The Road Crew
14. Bite The Bullet
15. The Chase Is Better Than The Catch
16. Overkill
17. Bomber
18. Motorhead