L'album de tous les succès de Kylie Minogue, « Step Back In Time » The Definitive Collection sortira le 28 juin 2019 via BMG – Warner. Il contient 41 titres, dont l'inédit « New York City ».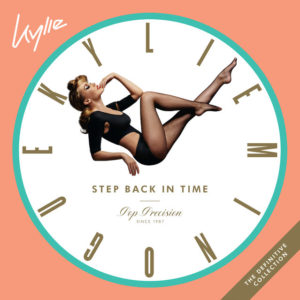 « Step Back In Time » est le témoignage de la carrière très impressionante de Kylie Minogue, parsemée de Hits mondiaux , à commencer par « I Should Be So Lucky » en 1987 jusqu'à son plus récent album, « Golden », sorti l'année dernière et également très bien accueilli dans les charts .
L'ensemble de ses singles Hits totalisent 300 semaines dans le Top 40. Elle a vendu plus de 80 millions d'albums et son catalogue compte désormais plus d'un demi milliard de flux dans le monde sur Spotify. Kylie a reçu de nombreux prix et distinctions, notamment 3 BRIT Awards, 2 MTV Music Awards et un Grammy.
L'année 2000 marque un tournant dans la carrière de l artiste et un retour désormais emblématique avec le hit « Spinning Around » suivi des singles « On A Night Like This » et son duo époustouflant avec Robbie Williams, « Kids ». L'année suivante, elle sort « Fever », cinq fois disque de platine, dans lequel figurent les singles « Impossible de te sortir de ma tête », « Dans tes yeux », « Love At First Sight » et « Come Into My Monde » que l'on les retrouve dans « Step Back In Time ».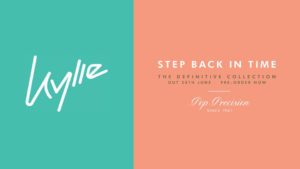 En 2007 sort « X » avec le single « In My Arms », produit par Calvin Harris, « 2 Hearts » et « Wow ». Parmi les autres points culminants de sa carrière figurent « Confide In Me », extrait de son cinquième album studio en 1994 et son duo avec Nick Cave & The Bad Seeds, le single de 1995 « Where The Wild Roses Grow ».
« Step Back In Time » sera disponible sous forme de double CD standard et de version numérique, ainsi que le CD deluxe avec un livre relié de 32 pages, 2 disques vinyles LP Picture Edition, 2 disques vinyles en édition limitée Vert Mint, 2 disques LP Standard Black Vinyle et cassette double disponibles en 5 couleurs d'édition limitée.
Après de nombreuses années de spéculation, Kylie Minogue se produira enfin au Festival de Glastonbury le 30 Juin prochain où elle présentera son spectacle très attendu sur la scène emblématique de la pyramide, dimanche après-midi et le single Inédit , « New York City ».