King Diamond présente la nouvelle vidéo du titre « Arrival » Live at Graspop extrait du nouveau DVD Blu-ray, qui sortira le 25 janvier 2019 via Metal Blade Records.
Il n'existe qu'un seul King Diamond et, depuis plus de trente ans, le fameux Danois a produit des albums classiques et a donné des concerts dont les fans se souviendront toute leur vie. Le seul inconvénient d'un catalogue aussi formidable est peut-être qu'il y a trop de chansons géniales à intégrer dans un même ensemble.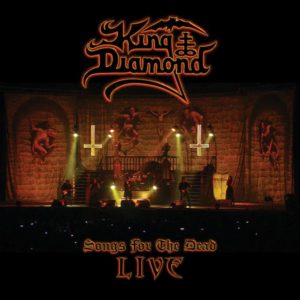 Cependant, vous auriez du mal à trouver un fan qui ne voudrait pas écouter le superbe « Abigail » dans son intégralité, d'autant qu'il se retrouve filmé par deux fois et dans des endroits très différents sur « Songs For The Dead Live ».
Proposant  dix-huit chansons par set sur chacun des deux concerts, dont le festival belge du Graspop en juin 2016 et le Fillmore de Philadelphie en novembre 2015, le dvd comporte une sélection des classiques de King Diamond et de Mercyful Fate, notamment « Welcome Home », « Halloween » et « Eye Of The Witch » avant de lancer « Abigail ».
Les performances des musiciens comprenant les guitaristes Andy LaRocque et Mike Wead, le bassiste Pontus Egberg et le batteur Matt Thompson, sont d'une férocité absolue.
« Songs For The Dead Live » est disponible dans les formats suivats: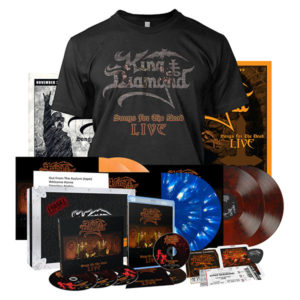 – 2DVD/CD 6-Panel Digipak
– Blu-ray (includes audio digital download of Philadelphia Show)
– Special edition box set with 5 discs (2DVD, 2CD, 1 Blu-ray) plus poster, flier, laminate, setlist, ticket, sticker, and guitar pick (limited to 3000 copies)
– Opaque blue with white splatter vinyl (US retail exclusive – limited to 600 copies)
– Opaque red with black splatter vinyl (US webstore exclusive – limited to 200 copies)
– Opaque white with black splatter vinyl (US webstore exclusive – limited to 200 copies)
– 180g black vinyl (EU exclusive)
– Transparent amber marbled vinyl (EU exclusive – limited to 700 copies)
– Clear ghost white vinyl (EU exclusive – limited to 500 copies)
– Orange-brown/black marbled vinyl (EU exclusive – limited to 300 copies)
– Black/purple melt vinyl (Nuclear Blast exclusive – limited to 200 copies)
– Orange/red marbled vinyl (Napalm exclusive – limited to 300 copies)
– Clear lavender marbled vinyl (EMP exclusive – limited to 200 copies)
– Clear ash grey marbled vinyl (Bengan exclusive – limited to 200 copies)
– Pink blue marbled vinyl (Ebay exclusive – limited to 200 copies)