Music For Ever présente: H.E.A.T + One Desire + Shiraz Lane le 4 Décembre 2018 à Paris – Petit Bain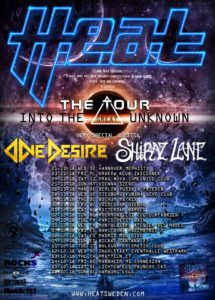 Le groupe Suédois H.E.A.T. embarque a nouveau dans son second acte de la tournée « The Tour Into The Great Unknown » en Novembre/Décembre 2018.
Connu pour être des bêtes de scène, avec des prestations live de haut vol, le groupe s'apprête à nouveau à faire des ravages dans toute l'Europe.
L'affiche de cette tournée est complétée par les groupes finlandais One Desire et Shiraz Lane.
C'est le package de groupes de Rock mélodique de l'année. Tu ne dois pas les louper !
Billetterie ouverte !!! En avant-première sur www.music-for-ever.fr