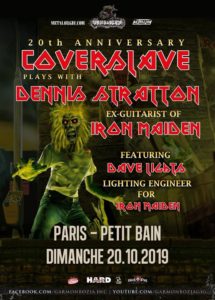 Les billets pour Coverslave 20th Anniversary & Dennis Stratton à Paris – Petit Bain le 20 Octobre 2019 sont disponibles.
Attention : Evènement exceptionnel ! Réservez dès maintenant votre place pour vivre le retour de Dennis Stratton, ex-guitariste d'Iron Maiden en France après 39 ans.
Vibrez au son des plus grands classiques d'Iron Maiden joués par Coverslave et Dennis Stratton.
Dave Lights, l'emblématique éclairagiste des grandes tournées d'Iron Maiden telles que le « World Slavery Tour », « The Beast on the Road World tour », « Somewhere on Tour » vous préparera un light-show spécial !
Préparez-vous pour deux heures d'immersion dans l'univers d'un des plus grands groupes de Heavy Metal, avec plus de 100 millions d'albums vendus dans le monde !
Ne tardez pas pour vous procurer le précieux sésame ICI et dans les points de vente habituels


-chers+jolis // 23€ // bientôt disponibles
Envois postaux : billetterie@garmonbozia-inc.com
Paris : Rock'n Roll Voltage (+0.5€/ticket)
Dennis Stratton / Coverslave / Dave Light
The Maiden Years Tour – Chapter 1 :
Jeudi 17.10.2019 – Cléon – La Traverse
Vendredi 18.10.2019 – Nancy – Chez Paulette Salle de concert
Samedi 19.10.2019 – Colmar – Le Grillen
Dimanche 20.10.2019 – Paris – Petit Bain
Préparez-vous à revivre les « Maiden Years » de Dennis Stratton avec Coverslave Tribute Iron Maiden