Le nouvel album de Bette Smith, intitulé « The good , the bad and the Bette » sera disponible le 25 septembre 2020 via Ruf Records /Socadisc.
Bette Smith : The New Queen Of Memphis Soul Is Back
Après « Jetlagger » (2017) sur lequel l'accueil fut unanime, Bette Smith revient avec un nouvel album aux sonorités soul heavy rock…!!!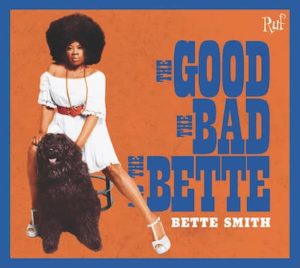 « The good , the bad and the Bette »
retrace l'enfance de Bette bercée par le gospel à Brooklyn.
« Mon père était directeur de choeur dans une église. Je chante depuis l'âge de cinq ans. Jamais un dimanche sans église. Ma mère n'écoutait rien d'autre que l'évangile », se souvient-elle, citant Mahalia Jackson et le révérend James Cleveland.
Bette aborde les relations compliquées avec sa mère qui l'ont conduit à se perdre dans les excès. Puis suivra la résilience et le chemin vers sa voix. Aujourd'hui , Bette a trouvé la paix intérieure grâce à ses fans. La scène est le remède à sa mélancolie.
« Un disque de soul sudiste robuste et haletant. Comme Betty Davis ou Betty Wright avant elle, Bette Smith imprègne les morceaux d'une texture en dents de scie, capable de rompre une note aiguë avec un cri de gorge ou de gratter si bas et si large qu'elle menace de virer son bassiste ». – BIillboard –
« Voici le début incroyable de la prochaine sensation soul de Brooklyn Les grandes voix sont de retour ! » – Mojo –
« On ne change pas une équipe qui gagne. Nous avons su trouver un son à la mesure de sa personnalité : soul heavy rock. Même les ballades de ce disque sont puissantes. Nous tirons vers Ike & Tina, Betty Wright et Betty Davis . – Matt Paton – producteur –